15 luglio 2011
Commenti chiusi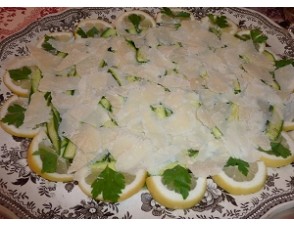 Preferisci la carne o la verdura?
Il carpaccio in genere è un piatto di carne cruda tagliata sottilissima. Qui ti proponiamo un carpaccio vegetariano, di zucchine e parmigiano. Un piatto freschissimo per l'estate che conquisterà chiunque.
Le zucchine sono verdure ricche di potassio, di vitamina E, di vitamina C e di acido folico.
Hanno anche un'azione antinfiammatoria, diuretica e disintossicante.
Ringraziamo i nostri amici di mangiarebene.com per questa buonissima ricetta!
Do you prefer meat or vegetables?
Carpaccio is usually a plate of thinly sliced ​​raw meat. Here we propose a vegetarian carpaccio, with zucchini and parmesan cheese. A fresh dish for the summer that will be enjoyed by anyone.
Zucchini are vegetables rich in potassium, vitamin E, vitamin C and folic acid.
They also have an anti-inflammatory, diuretic and detoxifying effect.
We thank our friends from mangiarebene.com for this delicious recipe!
To practice Italian this week we invite you to read and cook …
PRACTICE HERE: Italian/English Version
Para practicar el idioma italiano esta semana te invitamos a leer y cocinar…
PRACTICA AQUÍ: Versión Italiano/Española