13 agosto 2011
Commenti chiusi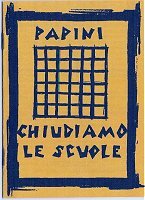 Nelle scuole italiane l'approccio allo studio è in genere più teorico che pratico. La tendenza è quella di dare una buona panoramica delle materie di studio. Per questo motivo gli studenti italiani in genere hanno una buona preparazione teorica ma non sono abituati a fare esperimenti e a lavorare praticamente.
Nelle scuole italiane e in molte università è comune fare gli esami scritti e le interrogazioni orali.
Ti piace studiare? Perché? Hai paura degli esami? Perché? Cosa fai per rilassarti prima di un esame importante?
In Italian schools the approach to education is generally more theoretical than practical. The tendency is to give a good overview of the subjects of study. This is why Italian students generally have a good theoretical background but are not used to experiments and practical work.
Italian schools and universities usually have written tests and oral examinations.
Do you like to study? Why? Are you afraid of exams? Why? What do you do to relax before an important test?
To practice Italian this week we invite you to read and test …
PRACTICE HERE: Italian/English Version
Para practicar el idioma italiano esta semana te invitamos a leer y testar…
PRACTICA AQUÍ: Versión Italiano/Española