30 giugno 2012
Commenti chiusi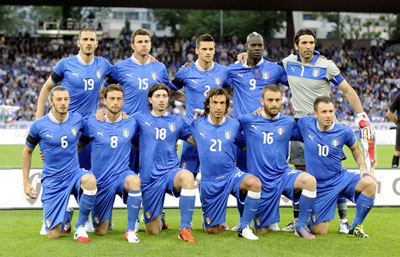 Il calcio italiano ultimamente ha sofferto per alcuni scandali e per un abbassamento dell'interesse del pubblico in favore di altri sport.
Tuttavia, quando la squadra nazionale gioca si ferma l'Italia intera. Praticamente tutti guardano la partita e le strade sono silenziosissime. In alcune città il comune organizza degli schermi giganti nelle piazze o nei parchi. Questo è un momento d'unione nazionale molto forte.
E tu?
Guardi il calcio italiano?
Guardi le partite dove gioca la nazionale del tuo paese?
Guardi lo sport con i tuoi amici?
Lately Italian soccer has suffered from scandals and a lowered public interest in favour of other sports.
However, when the national team plays, all Italy stops. Practically everyone watches the game and streets are very silent. In some towns the City organizes giant screens in piazze or parks. This is a very strong and bonding moment for the nation.
And you?
Do you watch Italian soccer?
Do you like to watch matches where your national team plays?
Do you watch sport with your friends?
To practice Italian this week we invite you to read…
PRACTICE HERE: Italian/English Version
Para practicar el idioma italiano esta semana te invitamos a leer…
PRACTICA AQUÍ: Versión Italiano/Española
Picture: La nazionale di calcio italiana agli Europei 2012