31 agosto 2012
Commenti chiusi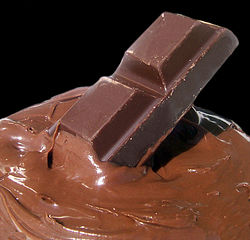 Il cioccolato, croce e delizia di molte persone.
Secondo alcuni crea un insana dipendenza, secondo altri è un sano antidepressivo, secondo alcuni fa bene, secondo altri fa male.
Che pensi tu?
Ti piace il cioccolato?
Chocolate: mixed blessing for many people.
According to some people it is unhealthy and addictive, according to others it is a healthy antidepressant, according to some it's good, for others it's bad.
What do you think?
Do you like chocolate?
To practice Italian this week we invite you to cook…
PRACTICE HERE: Italian/English Version
Para practicar el idioma italiano esta semana te invitamos a cocinar…
PRACTICA AQUÍ: Versión Italiano/Española
Picture courtesy of Wikipedia