21 agosto 2015
Commenti chiusi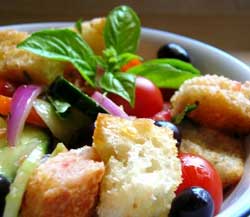 La panzanella è originariamente un piatto "povero" della cucina toscana. Adesso è diventato un piatto di moda, fresco e semplice per l'estate. La sua caratteristica è che si prepara includendo il pane raffermo, che bagnandosi nell'olio e nell'acqua dell'insalata diventa molto saporito.
La panzanella di Totò è una versione napoletana del piatto toscano (ma vedrai che potrai preparare questo piatto con qualsiasi verdura).
Ti piacciono le insalate?
"La panzanella" was originally a "poor" dish of Tuscan cuisine. Now it has become a fashionable recipe, fresh and easy for the summer.
Its characteristic preparation includes old, dry bread, that once soaked in the oil and water of the salad becomes very tasty.
"La panzanella di Totò" is a Neapolitan version of the Tuscan dish (but you will see that you can prepare this dish with any vegetable).
Do you like salads?
To practice Italian this week we invite you to read and cook…
PRACTICE HERE: Italian/English Version
Para practicar el idioma italiano esta semana te invitamos a leer y cocinar…
PRACTICA AQUÍ: Versión Italiano/Española
Picture courtesy of mangiarebene.com