19 agosto 2016
Commenti chiusi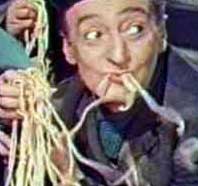 Alcuni stranieri si stupiscono di come mai molti italiani appaiano magri e in forma nonostante la dieta a base di pasta.
La pasta è parte della Dieta Mediterranea, la quale è stata dichiarata patrimonio dell'umanità dall'UNESCO (Organizzazione delle Nazioni Unite per l'Educazione, la Scienza e la Cultura).
Insomma, sapevi che se mangi un piatto di pasta stai contribuendo a mantenere e divulgare il patrimonio dell'umanità?
Some foreigners are surprised by the fact that many Italians appear lean and fit despite the pasta-based diet.
Pasta is part of the Mediterranean Diet, which has been declared world heritage by UNESCO (United Nations Organization for Education, Science and Culture.)
In short, did you know that if you eat a plate of pasta you are helping to maintain and develop the world heritage?
To practice Italian, in this activity we invite you to read…
PRACTICE HERE: Italian/English Version
Para practicar el idioma italiano, en esta actividad te invitamos a leer…
PRACTICA AQUÍ: Versión Italiano/Española
Picture from the movie Miseria e nobiltà, with Totò