17 novembre 2017
Commenti chiusi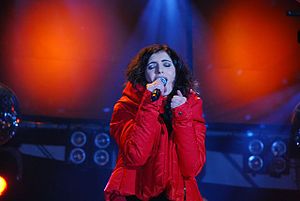 Questa settimana presentiamo un successo dell'estate 2012 di Giorgia, una cantante italiana molto amata dai giovani.
Nei versi della canzone c'è un grosso errore grammaticale.
Gli artisti e i poeti a volte inseriscono errori nei loro versi perché "suona meglio" e sono giustificati dalla "licenza creativa". Naturalmente li giustifichiamo anche noi, ma comunque dobbiamo essere consapevoli della lingua.
Puoi trovare l'errore?
This week we introduce a music hit by Giorgia, an Italian singer very loved by young people.
In the lyrics of the song there is an interesting grammar mistake.
Artists and poets sometimes include a mistake in their lyrics as it "sounds better", and they are justified by the "creative license". Of course we also justify them. However, we still need to be aware of the language.
Can you spot the mistake?
To practice Italian this week we invite you to listen and test…
PRACTICE HERE: Italian/English Version
Para practicar el idioma italiano esta semana te invitamos a escuchar y testar…
PRACTICA AQUÍ: Versión Italiano/Española
Picture source Wikipedia