In Italia è sempre stato più comune viaggiare in treno piuttosto che in aereo. Negli ultimi anni, con il rincaro dei treni e i voli low cost i viaggi in aereo sono diventati più diffusi ma molte persone preferiscono ancora il treno.

E tu? Preferisci viaggiare in treno o in aereo?

Scorri la pagina per proseguire l'attività...

In Italy, it has always been more common to travel by train rather than by plane. In recent years, with the rise of train tickets and the spread of low-cost flights, traveling by plane has become more popular. Yet, many people still prefer the train.

And you? Do you prefer to travel by train or by plane?

Scroll down for more of the activity...

Vista aerea di campi coltivati (centro Italia)
Non tutti gli aeroporti si assomigliano ma tutti gli aeroporti richiedono movimento e azione!

I verbi sono "parole d'azione" e sono molto utili quando si parla: indicano quale azione avviene (o è avvenuta o avverrà). Per parlare fluentemente, bisogna sempre tenere pronti i verbi "sulla punta della lingua".

Not all airports look alike but all airports require movement and action!

Verbs are 'action words' and they are very useful when we speak: they indicate which action is happening, (or happened, or will happen). In order to speak fluently, we should always have verbs ready "on the tip of our tongue".

In questa attività imparerai alcuni vocaboli utili e praticherai i verbi.
In this activity you will learn some useful words and you will practice the verbs.
Usa il dizionario online se necessario.
Use the online dictionary if you need.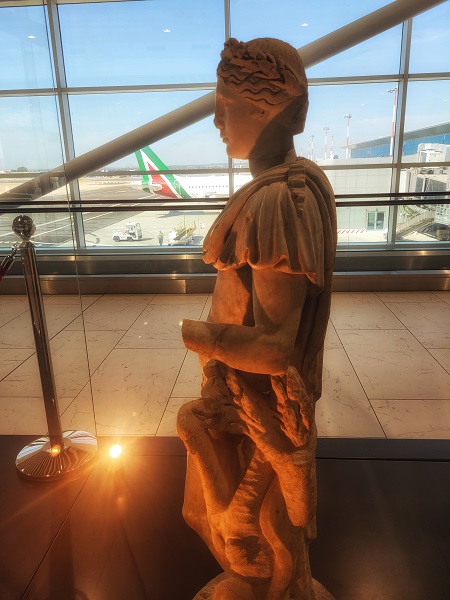 Aeroporto Leonardo da Vinci - Roma
Banco per il check-in e tabellone partenze con voli, orari e uscite
Nastro trasportatore per ritiro bagagli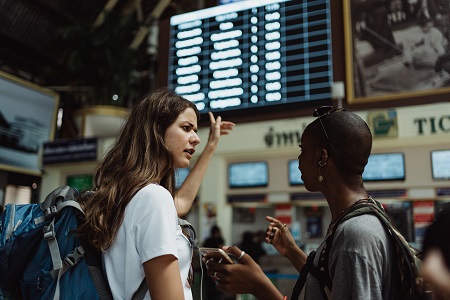 Passeggeri chiedono informazioni
Click on Pinocchio-Risposte for the solution.