Fausto Leali è un cantante italiano famoso per la voce roca e aggressiva, in contrasto con gli schemi della melodia italiana degli anni '60.

La canzone "A chi sorriderò" ebbe grande successo.

A te piace sorridere?

Sorridi spesso?

A chi sorridi?

Fausto Leali is an Italian singer, famous for his rough and aggressive voice, in sharp contrast with Italian melody conventions of the 1960s.

The song "A chi sorriderò" was very successful.

Do you like to smile?

Do you smile often?

Whom do you smile to?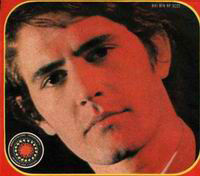 Fausto Leali
There is not much to smile
when you think about Italian prepositions!
(Picture courtesy of Wikipedia)
Nel 1967 il primo vero successo di Fausto è stato A chi (versione italiana di una canzone americana "Hurt" di Roy Hamilton del 1954).

Fonte Wikipedia

Fausto's first real success was "A chi" in 1967 (an Italian version of an 1954 American song "Hurt", written by Roy Hamilton).

Source Wikipedia

"A chi sorriderò?" Sorridere A qualcuno. Con il verbo "sorridere" usiamo la preposizione "a".

Le preposizioni sono uno degli aspetti della lingua italiana che non fa sorridere gli studenti. In effetti, molti studenti si sentono frustrati a causa delle preposizioni. Ne capiscono il significato generale ma poi, nella pratica della lingua, sentono spesso che ci sono troppe regole ed eccezioni alle regole. Ancora peggio quando le preposizioni sono articolate.

"A chi sorriderò?" (literally: To whom will I smile?) "Sorridere A qualcuno." (To smile at someone). With the verb "sorridere" we use the preposition "a".

Prepositions are one aspect of the Italian language that doesn't make students smile. Indeed, many students feel frustrated because of prepositions. They understand the general meaning of prepositions, but then, in the practice of the language, they often feel that there are too many little rules and exceptions to those rules. Even worst when prepositions are combined with articles.

Comprendiamo la frustrazione. Tuttavia, il nostro suggerimento è questo: ogni volta che incontri una preposizione o che l'insegnante ti mostra un errore nel tuo uso delle preposizioni, sorridi. La pratica è la chiave per sviluppare un "istinto" per le preposizioni (quando devo usare 'di'? E 'da'? Alcuni verbi richiedono certe preposizioni...)

We understand this frustration. However, our suggestion is: every time you meet a preposition or the teacher shows you a mistake in your use of prepositions, just smile.

Practicing is the only key to develop a feeling for prepositions (when should I use 'di'? What about 'da'? Certain verbs require certain prepositions...)

Il tuo obiettivo, attraverso la pratica, è di arrivare a un punto in cui dirai "questo suona bene".

Adesso ascolta la canzone di Fausto, canta e poi completa l'esercizio seguente sulle preposizioni.

E sorridi! :-)

Your goal, through practice, is to arrive to a point where you will say: "this sounds correct".

Now listen to Fausto's song, sing along and then complete the following exercise about prepositions.

And smile! :-)

This video is additional reference material and is not property of CyberItalian.
Should you have any problem viewing it, please notify us.
Thank you for your patience and collaboration!
A chi
sorriderò se non a te.
A chi
se tu, tu non sei più qui.
Ormai e' finita,
e' finita, tra di noi.
Ma forse un po' della mia vita
e' rimasta negli occhi tuoi.
A chi
io parlerò, se non a te.
A chi
racconterò tutti i sogni miei.
Lo sai m' hai fatto male
lasciandomi solo così,
ma non importa, io ti aspetterò.
A chi
io parlerò se non a te.
A chi
racconterò tutti i sogni miei.
Lo sai m' hai fatto male
lasciandomi solo così,
ma non importa, io ti aspetterò.
Rivedi l'uso delle preposizioni nella grammatica, stampa questa pagina e completa le frasi inserendo (SE necessario) le preposizioni semplici o articolate corrette (clicca sul Pinocchio-Risposte in fondo alla pagina per il risultato).
1. Io vengo _____________ Milano. (indicare provenienza)
2. Io sono _____________ Roma. (indicare "provenienza/appartenenza")
3. Abito vicino _____________ casa di Mario.
4. Abito vicino _____________ Colosseo.
5. Non amo i capolavori _____________ Shakespeare.
6. Ma i libri scritti _____________ Umberto Eco sono interessanti.
7. Sono felice _____________ partire _____________ le vacanze.
8. Vieni _____________ Roberta stasera? No, mi spiace, vado _____________ dottore.
9. Io stasera vado _____________ casa, ma domani _____________ cinema.
10. Quando cominci _____________ lavorare?
11. Quando cominci _____________ il lavoro nuovo?
12. Loro si divertono _____________ scrivere _____________ muro.
13. Ho dimenticato _____________ telefonare _____________ mia madre.
14. Ho dimenticato _____________ il mio portafoglio _____________ ufficio.
15. Ho dimenticato _____________ la mia borsa _____________ casa.
16. Ricorda _____________ prenotare il ristorante per domani.
17. Ma domani non andiamo _____________ mare?
18. Inizio _____________ essere stanco.
19. Ti suggerisco _____________ riposare.
20. Va bene. Allora vado _____________ riposare.
<!– FaceBook Comments –>
Not sure where to start learning or improving your Italian? Take online lessons with CyberItalian!

Self-Study Courses
for independent students: available online 24 hours a day so you can log in and study anytime from anywhere.
More...

Tutored Courses
if you need a structured and guided study: learn with the guidance of a tutor, get written correction and personalized feedback.
More...
1to1 Private Lessons
for a custom developed course conducted by a dedicated teacher via an interactive audio/video chat service.
More...
FREE: Join our student group on Facebook and follow us on Twitter