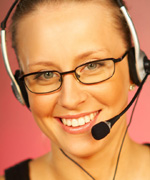 You feel the interaction with a private teacher boosts your learning, you need a schedule that meets your busy life, you are at a stage where you want personalized teaching.
Online private, custom-tailored, lessons are available for beginner, intermediate and advanced students who wish to learn or improve their knowledge of the Italian language with ''personalized 1to1 instruction''.
This custom developed program is conducted over a real time audio/video chat (powered by Skype) where, once or twice a week, a dedicated teacher meets the private student online; the teacher identifies the educational needs of the student, corrects homework and assignments, and works together with the student to obtain fast and optimal results.
Description - Our Teachers - Certifications - Registration
1to1:
A 6 lessons package - each lesson is 60 minutes - conducted LIVE by a CyberItalian Professor via Skype
Dates:
To be agreed upon
Prices:
See table
Includes:
Special assignments and progress report
Live voice chat with the CyberItalian teacher
BONUS: access to all Self-Study courses (Beginner, Intermediate and Advanced) to widen your knowledge of the language.
Certifications:
Upon request, the CyberItalian Certificate of Participation can be issued after successful completion of at least 6 Private Lessons
Educational Material:
CyberItalian interactive lessons (beginner, intermediate and advanced levels), activities, audio files, videos, pronunciation guides, exercises, grammar and glossary plus additional material provided by the CyberItalian teacher
Technical Requirements
Broad-band (DSL or Cable) Internet access - Recent browser (IE, Firefox, etc.) with Flash 6 or later - Skype - Headset with microphone - see FAQ and Help for details
Testimonial: "The private lessons were everything I hoped they would be. My professoressa, was wonderful. She listened carefully to my needs as a student, and tailored my lessons accordingly. She did an excellent job of incorporating important cultural points into the lesson." see more testimonials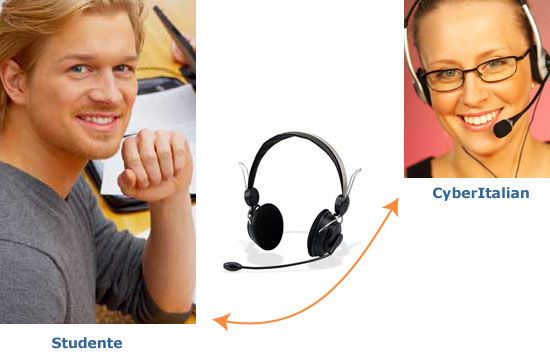 In the 1to1 Private Lessons the student meets the CyberItalian teacher online via an interactive audio/video chat service (powered by Skype).
The program of the private lessons is based on the educational needs and goals of the student. The lessons are based on a combination of elements: practical approach, interesting activities and educational material, oral practice, listening and comprehension skills, analysis and practice of linguistic elements, homework and homework correction.
Testimonial: "I truly enjoyed my lessons... and I accomplished want I wanted. I do believe that what you are offering in the way of private lessons is exceptional. Writing a short theme before each lesson was excellent practice for me; the corrections provided were very helpful. Initially, I thought that an hour might be a bit too long for me but it turned out to be just right due to the variety of activities. I believe I have built up my endurance and raised my "comfort level" in Italian. I will find out next week when we are in Italy. I do think this was one of the most challenging and stimulating educational experiences I have had. The teacher was excellent... I didn't expect to find someone so knowledgeable and literate in this kind of a program. I plan to take more lessons in the future." see more testimonials

CyberItalian professors and teachers are native speakers of Italian, highly qualified professionals dedicated to the promotion of the Italian language and culture.
Testimonial: "Thank you for being such a fantastic teacher! You make my lessons informative, interesting & fun! It makes me excited to learn more Italian!" see more testimonials

Upon successful completion of at least 6-private-lessons, and upon request, students shall receive a CyberItalian Certificate of Participation.
Please note: If you want to obtain a language proficiency certification officially recognized by the Italian government, you have to take the CELI exam (provided by the University of Foreigners of Perugia) or CILS exam (provided by the University of Foreigners of Siena). These exams can be taken in Italy (at the Universities for Foreigners of Perugia or Siena) or outside of Italy (at the Italian Cultural Institutes available in more than a hundred cities in different countries). Other universities are now offering official certifications.

Do you want private, custom-tailored lessons to improve fast with optimal results?