25 aprile 2014
Commenti chiusi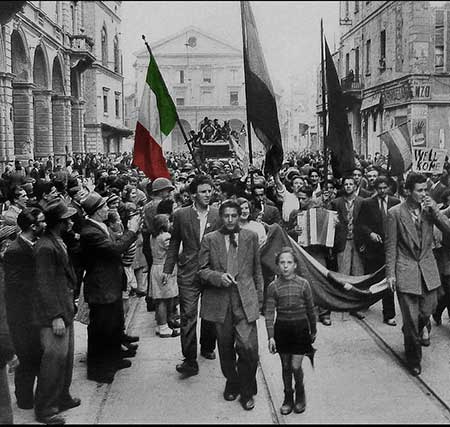 Il 25 aprile è una giornata di festa nazionale in Italia perché è il giorno della liberazione dal regime fascista e nazista.
È una giornata dibattuta: alcuni la festeggiano, alcuni dicono che è meglio non festeggiarla perché l'Italia è degenerata molto in tutti questi anni.
Certo, gestire la vera libertà non è mai facile, né a livello nazionale né a livello personale.
Francesco De Gregori, con una bellissima canzone, ci ricorda che la Storia siamo noi: con le nostre azioni, contribuiamo ad un mondo migliore.
Cosa ne pensi tu?
Ti senti libero (o libera)?
Ti senti parte della storia?
April 25 is a national holiday in Italy because it is the day of liberation from the Nazi and Fascist regime.
The day is debated: some celebrate it, some say it is better not to celebrate it because Italy has degenerated much in all these years.
Indeed, managing true freedom is never easy, whether at the national or personal level.
Francesco De Gregori, with a beautiful song, reminds us that we are History: with our actions, we contribute to a better world.
What do you think about it?
Do you feel free?
Do you feel part of History?
To practice Italian this week we invite you to listen and sing…
PRACTICE HERE: Italian/English Version
Para practicar el idioma italiano esta semana te invitamos a escuchar y cantar…
PRACTICA AQUÍ: Versión Italiano/Española