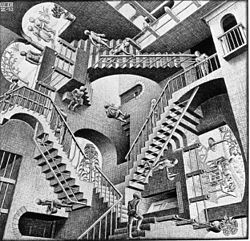 In ogni lingua troviamo delle parole che possono avere diversi significati.
In ogni lingua troviamo le cosiddette "frasi idiomatiche" che sono frasi caratteristiche per la loro espressività ma difficili da tradurre letteralmente o razionalmente; sono "modi di dire" che la gente usa.
Quante espressioni idiomatiche italiane conosci?
In every language there are words that can have different meanings.
In every language we find the so-called 'idiomatic expressions', which are sentences characteristic for their expressiveness but difficult to translate literally or rationally. They are a "modi di dire" (literally 'way of speaking') commonly used by people.
How many Italian idiomatic expressions do you know?
To practice Italian this week we invite you to watch…
PRACTICE HERE: Italian/English Version
Para practicar el idioma italiano esta semana te invitamos a mirar…
PRACTICA AQUÍ: Versión Italiano/Española
Picture source wikipedia.org