15 luglio 2016
Commenti chiusi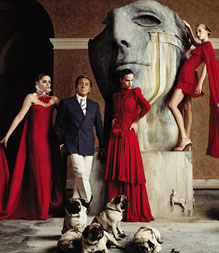 Le parole antiche avevano spesso molti significati diversi. La parola "moda" deriva dal latino "modus", che significa "maniera, norma, regola, tempo, ritmo".
La parola "abitudine" deriva dal latino "habitus" che in seguito in italiano è diventato "abito, vestito".
Per te la moda è una regola? Perché?
Il vestito è un'abitudine? Perché?
Ancient words often had several different meanings. The word "moda" (fashion) derives from the Latin "modus" which means "maniera" (manner), "norma" (norm), "regola" (rule), "tempo" (time), "ritmo" (rhythm).
The word "abitudine" (habit) derives from the Latin "habitus" which later in Italian became "abito" (dress).
In your opinion fashion is a rule? Why?
The dress is a habit? Why?
To practice Italian this week we invite you to read and watch…
PRACTICE HERE: Italian/English Version
Para practicar el idioma italiano esta semana te invitamos a leer y mirar…
PRACTICA AQUÍ: Versión Italiano/Española
Picture from: Valentino the Last Emperor (a film by Matt Tyrnauer)