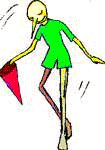 Esercizio 1
Insert the correct interrogative word. Use the online dictionary if necessary. Example: ............... mangi oggi? = COSA mangi oggi?
1) PERCHÉ sei arrabbiato?
2) CHI viene a pranzo con te?
3) QUANDO torni?
4) QUANTO dura il film?
5) DOVE vai in vacanza? CON CHI vai in vacanza? QUANDO vai in vacanza?
6) COSA mangi tu? Io mangio una pizza.
7) PERCHÉ tua sorella è sempre triste?
8) DOVE è l'ingresso?
9) COME stai?
10) QUANTI amici vengono a cena?
Esercizio 2
Re-order the words in the sentence. Example: abita lui dove? = Dove abita lui? Lui dove abita?
1) VOI COSA ORDINATE? COSA ORDINATE VOI?
2) LUI STUDIA MEDICINA? STUDIA MEDICINA LUI?
3) TU PERCHÉ SEI TRISTE? PERCHÉ SEI TRISTE TU?
4) NOI QUANDO PARTIAMO PER IL VIAGGIO? QUANDO PARTIAMO PER IL VIAGGIO NOI?
5) LEI DOVE VA ALL'UNIVERSITÀ? DOVE VA ALL'UNIVERSITÀ LEI? (DOVE VA LEI ALL'UNIVERSITÀ?)
6) TU PERCHÉ NON VIENI? PERCHÉ NON VIENI TU? (PERCHÉ TU NON VIENI?)
7) TUA SORELLA È SIMPATICA? È SIMPATICA TUA SORELLA?
8) I TUOI AMICI ABITANO A MILANO? ABITANO A MILANO I TUOI AMICI?
9) LE VACANZE SONO STATE BELLE? SONO STATE BELLE LE VACANZE?
10) I NONNI QUANDO ARRIVANO? QUANDO ARRIVANO I NONNI?