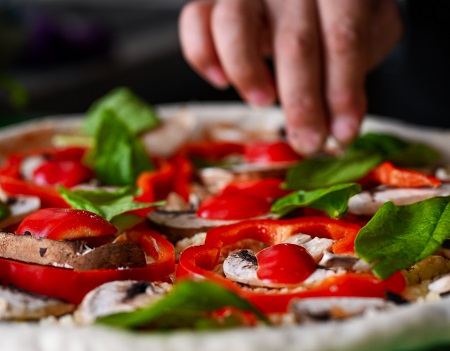 La pizza ha origine più di tremila anni fa da focacce (o "schiacciate") cotte su pietre roventi. Il termine pizza deriva da "pinsa", participio passato del verbo latino "pinsere" = pestare, schiacciare, macinare. La pizza è uno degli alimenti italiani più celebri e comuni, conosciuto in tutto il mondo.
Ma quanto sai tu in proposito?
Sai preparare la pizza?
Pizza originates more than three thousand years ago from flat bread cooked on hot stones. The word pizza comes from "pinsa", past participle of the Latin verb "pinsere" = to press, mash, crush. Pizza is one of the most famous and popular Italian food, known all over the world. 
But what do you know about it?
Do you know how to prepare pizza?
To practice Italian this week we invite you to read, cook and test…
PRACTICE HERE: Italian/English Version
Para practicar el idioma italiano esta semana te invitamos a leer, cocinar y testar…
PRACTICA AQUÍ: Versión Italiano/Española
Image courtesy of Ram Ho on unsplash)