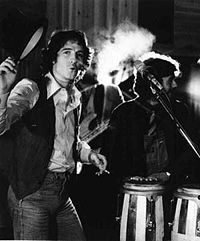 Rino Gaetano è un artista versatile e un ottimo musicista che purtroppo ci ha lasciato molto giovane a causa di un incidente stradale. Gli italiani lo considerano ancora fra i migliori e più amati cantautori.
Canta con Rino e ripassa l'uso dell'imperfetto.
Hai problemi con l'imperfetto?
Rino Gaetano is a versatile artist and extremely good musician, who unluckily passed away very young due to a car accident. Italians still consider him among the best and most loved singers-songwriters.
Sing along with Rino and review the use of "imperfetto".
Do you have problems with the "imperfetto"?

To practice Italian this week we invite you to read and sing…
PRACTICE HERE: Italian/English Version
Para practicar el idioma italiano esta semana te invitamos a leer y cantar…
PRACTICA AQUÍ: Versión Italiano/Española
Picture form Wikipedia