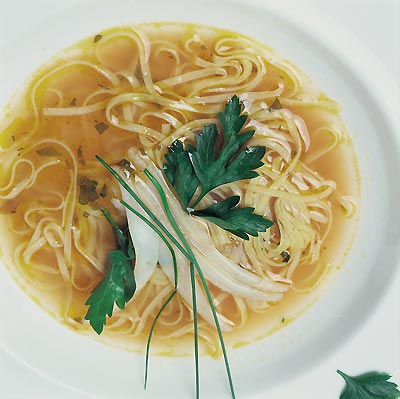 In passato, nelle famiglie povere, si usavano gli ingredienti più semplici ed economici per cucinare, ma l'idea era sempre quella di preparare un piatto saporito. La tinca (un pesce di lago) veniva utilizzata al posto del cappone (un gallo, più costoso), per cui era anche chiamata "il cappone dei poveri". I tagliolini in brodo di tinca sono un piatto tipico del nord del Lazio.
Guarda il video nell'attività.
Puoi seguire le istruzioni del cuoco?
Cosa dice l'intervistatrice all'inizio: 1. scondito 2. squisito 3. sbollito 4. stordito?
Le piace questo piatto?
In the past, poor families used the simplest and cheapest ingredients for cooking, but the idea was always to prepare a tasteful dish. Tench (a fish lake) was used in place of capon (a rooster, more expensive), so it was called "the capon for the poor". The tench soup with noodles is a typical dish of northern Lazio.
Watch the video in the activity.
Can you follow the instructions of the chef?
What does the interviewer say in the beginning: 1. scondito 2. squisito 3. sbollito 4. stordito?
Does she like this dish?
To practice Italian this week we invite you to watch and cook …
PRACTICE HERE: Italian/English Version
Para practicar el idioma italiano esta semana te invitamos a mirar y cocinar…
PRACTICA AQUÍ: Versión Italiano/Española