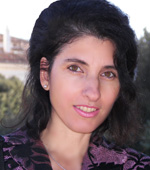 Founder CyberItalian Inc., Author, Consultant, Educator
Ms. Garau likes to define herself a 'Renaissance woman', as she is an eclectic person, very concerned about the development of the potential and talent that each human being has.
Her interests range from languages and communication to art, Oriental disciplines, zen meditation, history, philosophy and more.
She holds a diploma in Visual Design, a diploma in Art Direction, a diploma in Shiatsu and an academic degree (Laurea) in Foreign Languages and Literature with specialization in the teaching of the Italian language.
She is the author of the book Your Renaissance, a fascinating journey into the lives of Leonardo Da Vinci, Michelangelo, other great Renaissance artists, and into our own life.
She has been working in the field of education since 1991.
During her university years and study of Foreign Languages and Literature she realized that 'knowing a subject very well' is not enough to teach it. Therefore she also studied, practiced and researched in the field of human development in order to give a true meaning to the word "educare" (to educate, to teach; from the Latin "ex-ducere", to bring out). The best educational experience is the one that allows each student to express (bring out) the best of him/herself.
Through the years, she diversified her work into three main areas: teaching, authoring and consulting.
Teaching
Italian Language Teacher, Head Teacher - CyberItalian
Director and Head Teacher - Italian Language Program UNSRC Circolo Culturale Italiano, United Nations, New York
Adjunct faculty - Italian Language Department New School University for Social Research, New York
Lecturer (offline and online - some of the seminars/webinars conducted are: "The Italian Language Online", "The Role of Italian Language and Culture in Present Society", "How to Use Art in the Italian Classroom") - AATI American Association of Teachers of Italian - New York Chapter, and NYCAFLT/UFT New York City Association of Foreign Language Teachers/ United Federation of Teachers
Authoring
Designer and content developer of CyberItalian's language courses
Author of several art-books featured in group exhibitions in New York and Milan
Author of the book Your Renaissance
Author of the Space of a Dream WellnessDayByDay project
Author of the @maura_imagesandwords project
Consulting
"Italintranet Donna" - IACE (Italian-American Committee on Education), New York
"Curriculum Guide K-12" - Education Office of the Italian Consulate in New York
"Italy-USA cross-cultural, business issues" - Windham International USA, and Prudential Intercultural USA
Ms. Garau strongly believes that education is the future of humanity and that a language course should be amusing, conceptually strong, and well designed. She likes to promote these ideas through CyberItalian.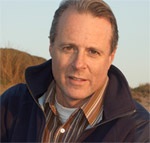 Founder and President CyberItalian Inc., Technical Director
Mr. Vacchina is an electronic engineer and computer scientist since 1985.
He was an information technology consultant for the United Nations.
He developed his experience through several projects managed in different countries all over the world.
He designed the interface and the CGI programs behind CyberItalian, and worked on the overall concept and design of the site. With a strong passion for technology, photography, traveling, and sailing, he strongly believes that the Internet has opened a new way in the search for enlightenment. He likes to promote this idea through CyberItalian.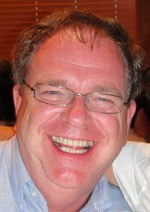 CyberItalian Inc. Board Member
Mr. Minke enjoyed elementary and high school education in the Netherlands, Belgium and Indonesia, and later studied law in the Netherlands and in the USA. Initially in New York and now in California, he assists European businesses in conducting business in the USA.
Trained as a lawyer, he provides a very structured approach to business and organization. He has assisted Cyberitalian with various matters and has seen the company and the language platform develop almost from the onset. Mr. Minke also operates a legal and financial niche translation agency and is the author of several books on working and living abroad.
From an education point of view, as an expat child in pre-internet days, he grew up with remote learning (at the time known as "correspondence classes" -- by snail mail) supplementing the international school's curriculum. More recently, he served as Chairman of the Dutch School of Southern California, which he expanded into online and hybrid learning during the pandemic.
He is excited to help bring fun and solid language and culture training to a worldwide audience. Learning languages boosts knowledge and brings understanding of and respect for other cultures.
We would like to thank the following friends, professionals or organizations which contributed to CyberItalian success:
United Nations Staff Recreation Council,
Il Circolo Culturale Italiano, New York

Teresa Barbieri, consultant
Alberto Baudo, journalist
Barbara Cicalini, copywriter
Massimo Guadalupi, copywriter
Italian Wine and Food Institute New York
Stefano Lami, scientist
Linda Ann Loschiavo, editor
Marina Malvezzi, editor and chef
Micaela Martegani Luini, art critic
Antonio Monda, film director
John Rizzo, journalist
Alberto Ruju, biologist
Gaither Stewart, foreign correspondent
Martin Stiglio, director Italian Cultural Institute
Angela Vistarchi, professor
Kathrine Simon, fashion designer

Raffaella Acampora
Clelia Cavallaro, composer and vocalist
Laura Caparrotti, Kairos Italy Theatre director
Alessandro Fabrizi, actor
Giovanni Micoli, actor
Marco Perduca
Vincenzo Pugliese, actor

Edoardo Bellando
Andrew Cangelose
Carolina Cobelli
Madeline Escobar
Erika Hauschildt
Tamara Lee
Jennifer Prado
Maria Rea
Paolina Weber

Umberto d'Arista, teacher of Italian
Giuseppe Barni, teacher of Italian
Rossana Chille, teacher of Italian
Rossella Livraga, consultant
Paola Ruju, language teacher
Paolo Tartanella, journalist
Stefano Vaccara, political editor and columnist
Chiara Carfì, marketing and PR consultant
United Nations Staff Recreation Council, Il Circolo Culturale Italiano, New York