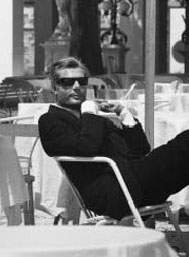 Actor Marcello Mastroianni
in the movie 8 ½ by Fellini
The indefinable quality of Italian style. The richness of art and design. The human touch in daily life.
If all this means something to you and if you are ready for a deeper knowledge of Italian language and culture, you will love the CyberItalian online courses.
For a learning program geared toward your personal interests (conversation, art, opera, literature, current events, politics...) we suggest that you take the CyberItalian Private Lessons and practice with a dedicated teacher.
Otherwise the Tutored Courses will give you a great opportunity to improve the language and live the culture, with the guidance of an experienced teacher.
Enjoy life and immerse yourself in practicing Italian!
Choose the learning style and courses that you prefer:
Take a Placement Test and receive our FREE Start-Up Kit!