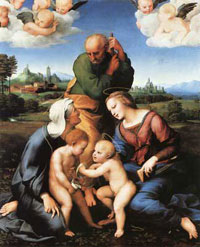 "Sacra Famiglia" (Holy Family)
by world-renowned Renaissance
painter Raffaello Sanzio.
With the CyberItalian online courses you learn to express yourself in Italian and to communicate with your family, relatives and friends in Italy.
As you complete the "Bocconcino Culturale" (Cultural Tidbit) and the Activities in each lesson you re-discover the importance of your Italian origins.
Through the CyberItalian courses you connect with the rich Italian background that makes you such a special person.
In the Self-Study Courses you decide how to practice: in each lesson you enjoy the dialogues and audio clips, and test your skills with the Pronunciation Guides and Voice Recording System.
You will find easy explanations of how the language works. If you want more in-depth study, just click on the grammar links, and complete the exercises and exams.
For a structured course, with personalized instruction and support from the teacher, take the Tutored Courses or Private Lessons.
Choose the learning style and courses that you prefer:
Take a Placement Test and receive our FREE Start-Up Kit!