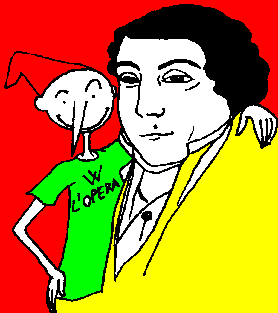 Intermediate Lesson 2: Pinocchio meets Rossini
and they talk about Opera. Do you like Opera?
Teaching Italian language and culture is a mission. We believe that the task of a teacher is to help students to learn the language and express themselves through the "values of Italian language and culture".
How do you greet people in Italy? It is not just a matter of saying "ciao" or "buongiorno". Italian culture is based on interpersonal relations, and you can make students aware of the role of one's eyes and smile in greeting someone. In the CyberItalian Activities you find many ideas for combining the teaching of the Italian language with cross-cultural issues.
The Self-Study Lessons are a great solution for bringing additional up-to-date educational materials to your Italian classes: dialogues, exercises, exams, easy grammatical explanations, poems, videos, audio clips, songs and more.
Contact us for more information: