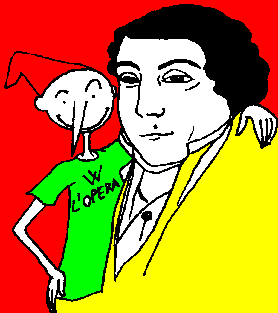 Intermediate Lesson 2:
Pinocchio meets Rossini
and they talk about Opera.
Do you like Opera?
Teaching the Italian language and culture is a Mission where the teacher of Italian helps students both to learn the language and to express themselves through the "humanistic values of the Italian language and culture".
For example: how do you greet people in Italy? It is not just a matter of saying "ciao" or "buongiorno".
Italian culture is based on interpersonal relations, and you can make students aware of the role of one's eyes and smile in greeting someone. In the CyberItalian Activities you find many ideas for combining the teaching of the Italian language with cultural topics.
The self-administered Lessons are a great solution for bringing additional up-to-date educational materials to your Italian classes: dialogues, exercises, exams, easy grammatical explanations, poems, videos, audio clips, songs and more. In this way:
Teacher and students will be able to access the lessons online, (print the lessons if they wish), and use them in class or at home.
Students will be able to complete the lessons, exercises and exams online for automatic grade recording and a personalized Progress Report.
Teacher or students will be able to print out the Progress Report at the end of the course (this is a big help for teachers.)
Teachers will have more time to help students in class and reinforce their language learning with role-playing and engaging activities.
Contact us for more information on how to get a licence to use the self-administered lessons with your students.